Meet Ron
Ron has been serving the Ottawa real estate market for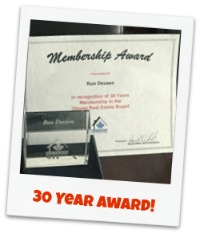 over 30 years with proven and professional service and has been affiliated with Century 21 Canada for 20 years to date. Ron is methodical and systematic in his approach to serve you better always trying hard to please his customers and their frequent referrals. He truly assists both Buyers and Sellers to make their Ottawa real estate transaction as stress free as possible.
He loves to meet people and thoroughly explains to his clients, the step-by-step system of buying or selling their homes as well as keeping them informed of the activity of the market. Ron has learned that giving satisfaction to his many clients over the years has offered him repeat business and referrals which he truly appreciates and treats ever client with the utmost professional and knowledgeable service.
Ron has professional colleagues and resources at his finger tips that will assist his clients with real estate transactions such as building inspectors, mortgage broker professionals, real estate lawyers, trades people, etc. in order for his clients to ensure an almost seamless transaction when buying or selling their home.
Ron has designed a committed 10 point Marketing and Strategy Plan when taking on the commitment to selling your home which he will be happy to share with you upon request. Ron truly looks forward to hearing from you and helping you with all your Ottawa real estate needs and invites you to call on him at any time.

Testimonials
"You have a sense of sale strategy and a determination that appealed to me. Your recommendation to seek a higher price than your competitors (who may have simply guided by the last sale on the block) revealed better knowledge, true research and experience. It was also a little more daring. In the end, the market proved you right within a few working days. You are good at what you do, you like what you do and it shows. Many thanks for a professional job."
Pierre Nadeau
"I am writing to you to express my pleasure as you have represented me in my recent purchase of my condo home in Kanata. You guided me through the entire process, from searching for houses to making the offer and closing the deal. I credit you with the smooth, stress-free home-buying experience. Thanks once more for all the efforts and help that I received from you; dealing with you was a pleasure as you have demonstrated a great deal of professionalism, dedication, honesty and integrity."
Mazen Al Sabbagh
"Ron's professionalism, resourcefulness, hard work, and impeccable timing sold our house within months, while other, similar places are still on the market today. Ron has a knack for letting the client make all the decisions while providing sound advice, based on experience. Ron is not pushy and we felt quite relaxed about a process, which is generally a stressful one. We will definitely use his services again in the future when we buy or sell our next home."
Chad Holliday
"My initial contact with Ron was over the Internet to find a suggested market price for my house and I was intrigued with his suggestion. I've heard that the process of selling your home can be quite stressful and (sometimes) even painful; however, after meeting with Ron, my fears and hesitation were put to rest. Ron worked very diligently with me to ensure that my house was ready for market, that I had a competitive price and that every aspect of the sale was to my satisfaction. With all his hard work and dedication, it took a mere 10 days to sell my house and I received more than I had expected at closing! I couldn't be happier with the service I got from Ron -- I even carry with his business cards with me to pass along to anyone interested in buying or selling in the Ottawa area."
Heather Sturgeon
"Ron has sold 3 of my homes in Ottawa as well as my mother's residents. He has assisted me in finding and purchasing 4 homes; including my most recent move to a condo in Orleans. Ron is professional and has a realistic knowledge of the market. He works diligently with his clients to ensure personal needs and expectations are met. He has proven himself to be an excellent agent who goes well beyond his call of duty to accomodate his clients."
Joan McEachran